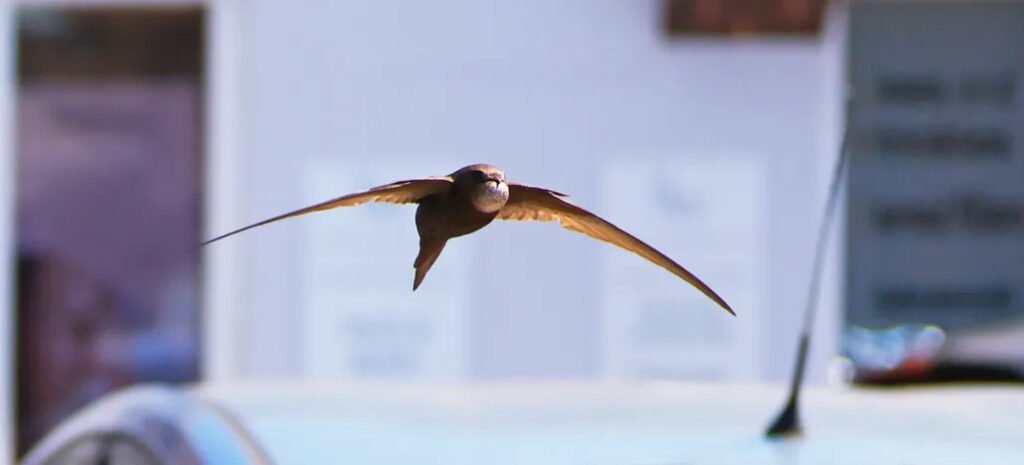 The swift is an amazing bird that is under threat. They are on the red list of Birds of Conservation Concern in the UK and are vulnerable to local extinction!
They live on the wing. The only time a swift comes to land is when it is nesting. They eat, drink, mate and even sleep when flying. They are migratory birds and fly all the way from Equatorial Africa to nest here and can be seen and heard in our skies from May to August. This is a flight of 14,000 miles. They are the fastest flying bird in the world in level flight, having been recorded at 69.3mph.
They are not related to swallows or house martins, in fact, their nearest relative is the humming bird. They feed exclusively on tiny airborne spiders, mosquitoes, midges, flies and other small flying insects which means they are a brilliant natural pest control. They mix their prey with saliva and store them in a special sack at the back of their throat. Swifts are very clean nesters and make no droppings near the nest, which makes them good house guests! They pair for life and always return to the same nesting spot.
They prefer to nest out of sight in nooks and crannies under eaves in older buildings. Swifts are colonial nesters, which means they nest only in proximity to other nesting swifts. When they fledge they do not touch down again for 2-3 years.
As we renovate old houses or put up new ones there is no place for them to nest as there are now no nooks and crannies under eaves. Imagine having the same summer home every year, travelling that distance and then finding it no longer exists!
We Need To Monitor Swifts Across Chiswick
With the help of funding from Hounslow Council, we are looking to find sites across Chiswick with known swift activities to install new swift boxes. We are looking for people who are willing to look for swifts across areas of Chiswick between beginning of May and end of August 2023. We are specifically looking for nest sites, installed boxes and areas where swifts are flying low as this indicates they are in an area where they are looking to nest. We would also like to compare this data with data from previous years to give us an idea of whether swifts are still visiting Chiswick in the same number.
We Need To Purchase Swift Nest Boxes (And In Some Cases Professional Installers)
Thanks to a Thriving Communities Grant from Hounslow Borough Council we have funding to run an awareness, monitoring and box installing project. So far we have installed 18 nest boxes with another 10 to go. Boxes are best placed on north, north east or north west facing walls at least four metres high and tucked close under eaves. West and east locations that receive sun for just part of the day can sometimes prove suitable too, by using nest boxes with white roofs of a good thickness to reflect sunlight and insulate from heat. There should be nothing underneath the wall that would break the flight of fledging birds as they first take to wing.
We are asking people who live in areas of Chiswick where we know there are swifts to agree to have swift boxes installed. There needs to be at least two boxes per wall. Areas include (but not necessarily restricted to) :
Devonshire Road and surrounding streets.
Grove Park Terrace, St Thomas' Road, Burnbaby Gardens and surrounding streets.
St Albans Road, Mayfield Road and surrounding streets.
Turnham Green.
The Mall.
Monitoring Swift Activity
We want to re-establish the monitoring of swifts across Chiswick during the months of May through end of August.  Monitoring all species is important.  Monitoring vulnerable species is especially important so we can establish where and how we can help them.
We need help from anyone willing to look for swifts flying low over areas of Chiswick at dawn and dusk. We can assign areas of interest. Also anyone who sees low flying swifts as they go about their daily business – please report the sighting including time, date and street. Plus amount of birds if possible!
Ways To Help
Please help with as little or as much as you can to help this unique bird survive and stay in the skies above Chiswick: (Please put SWIFTS in the comment box of your donation). We now need to raise £300 to fulfil all the requests we have received for swift box installations. Please donate if you can to help us do this.
AND/OR
Contact us to let us know how you would like to help us with nest boxes or monitoring. Thank you for caring!